Business Buch Empfehlungen für Fotografen
"Man macht keinen Fehler Zweimal!", diese Wort habe ich als kleines Kind schon gelernt. Sicher ist an dieser Aussage viel Wahres, aber warum muss ich jeden Fehler erst selber machen? Wir leben doch in einer Zeit in der man sich viel leichter austauschen kann. Es ist so leicht wie noch nie, Netzwerke aufzubauen und von anderen Erfahrungen zu profitieren und zu lernen. Und eins ist doch auch irgendwie sicher, es gibt kein Problem, das nicht schon gelöst wurde...
Viele Lösungen sind einem auch bewusst, doch leider schlummern sie ganz Tief hinten in uns und werden zwar wahr genommen, aber nicht wirklich ernst. Da ich mir gerne bewusst mache, was in mir schlummert und entfesselt werden möchte nutze ich ganz besonders gerne Bücher - keine Zeit? Lass dich von dem Gedanken nicht davon abbringen zu lesen! Meine Tipps - ich lese gerne morgens, vor dem Aufstehen ein paar Minuten oder beim Frühstückskaffe. Nachmittags bei einem Tee oder Abends wenn ich ins Bett gehe. Wenige Minuten reichen schon aus, um sein Leben zu reflektieren und zu verbessern. Einige Bücher haben einen festen Platz in meinem Leben und werden öfter zur Hand genommen. Sie haben mein Leben nachhaltig geformt und geprägt. Für Dich habe ich sie unten Aufgelistet und kurz Beschrieben. Hast Du auch ein Buch, dass zu Deinem leben gehört? Dann schreibe deine Empfehlung gerne in die Kommentare!
Inhaltsverzeichnis
Coach dich Selbst
sonst coacht dich keiner
Der Titel sagt alles über seine Botschaft aus. Das Geheimnis des Erfolgs liegt nah. Schritt für Schritt werden in diesem Buch Augen geöffnet und sensibilisiert "Platz und Freiheit" zu erschaffen. Grundlagen die für das Wesentlich, den Erfolg wirklich wichtig sind.
"...101 praktisch orientierte Tipps, Ihre eigene Bedürfnisse zu erkennen, Ziele zu entwerfen und Ihr Leben zu organisieren..."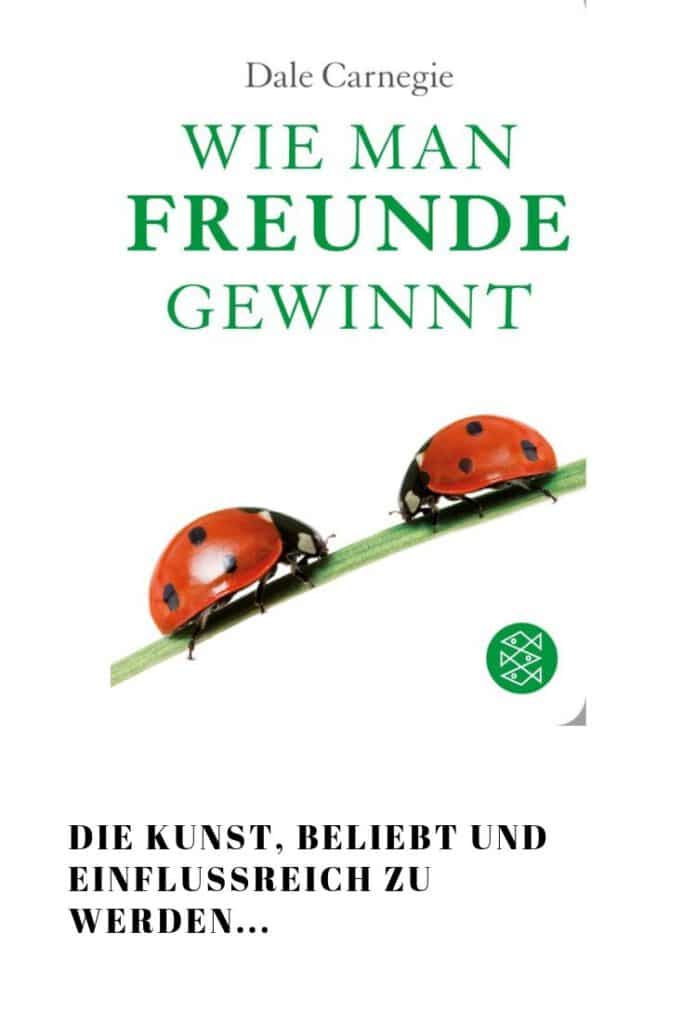 Wie man freunde gewinnt
Die Kunst, beliebt und Einflussreich zu werden...
Diese Buch ist es Wert gelesen zu werden, auch wenn es im ersten Moment doch einen recht eigenwilligen Eindruck macht. Dale Carnegie vermittelt brillant, wie man mit seinen Mitmenschen kommuniziert um Aufmerksamkeit und Sympathie zu erhalten und zu hinterlassen. Brandaktuelle, lebhafte und zeitlose Grundprinzipien der zwischenmenschlichen Kommunikation die mit tollen "Aha"-Moment zum nachdenken anregen.
Das ist Marketing!
So wird man wirklich sichtbar
Marketing-Guru Godin gewährt Einblick in seine Marketing-Erfahrungen. Konkrete Beispiele, kompakte Einblicke. Effektives Marketing durch Einfühlungsvermögen, Service, Spannung, Vertrauen und Positionierung. Er zeigt, was nötig ist, um Menschen wieder mit guter Arbeit zu erreichen.
Gefangen im Mittelfeld der Mittelmäßigkeit. Was macht ein Unternehmen großartig? Was außergewöhnlich? Eine Detaillierte Analyse von Jim Collins, in der er herausgefunden hat, was eine gute Leitung ausmacht. Was ein Unternehmen zur Nummer 1 in ihrer Branche macht und welche Prinzipe dahinter stecken. Ein Buch voller zeitloser und extrem Wertvoller Erkenntnisse.
Ein Buch in dem es nicht um Geld geht und das dennoch unglaublich bereichert! Mit Struktur ins tägliche Chaos - Projekte beenden, die man schon Monate vor sich her geschoben hat, in diesem Buch wird das Geheimnis gelüftet. Wertvolle Tips, die die Produktivität und das eigene Wohlbefinden steigern.
Mit den gleichen Gewohnheiten kommt man immer zu dem gleichen Ergebnis. Ändert man diese Gewohnheiten ist alles möglich. Kleine Gewohnheiten zu verändern ist ein Prozess mit gewaltiger Wirkung.
To-Do Listen und ihre offene Posten. Wer jeden Morgen einen lebenden Frisch gefrühstückt hat, hat das schlimmste bereits hinter sich. Bewältigung von schwierigen Aufgaben haben großen Einfluss auf das Leben. Dieses Buch weist einem den Weg, Tage so zu organisieren, das man kritische Aufgaben effektiv und effizient erledigt.
Humorvoll und provokante Denkanstöße die das Leben verändern. Zeitmanagement einmal anders betrachtet, inspirierend und witzige Beispiele, mit Tips um seine eigene Arbeitsweise in Frage zu stellen. Ein kleiner wink um effektiver zu planen und umzusetzen.
Kreativität ist eine Fähigkeit, sondern eine Gewohnheit, die jedem offen steht. Tägliches "aufladen" erwecken persönliche Kraft. Entfesselt, wird sie unser Leben verändern und all unserem Tun Vitalität verleihen. Visionsentwicklung, wachsen und Kraft. Lesenswert!
The Gratest Salesman in the World
Hier ein - im deutschsprachigem Raum - recht unbekanntes Buch, dass auf deutsch auch kaum zu finden ist und wenn, äußerst exklusiv im Preis. Ein Buch, dass nicht zu unterschätzen ist, auch wenn es ein sehr zierliches Buch ist. Og Mandino erzählt die Geschichte des Unternehmers Hafid, der zum erfolgreichsten Verkäufer und reichsten Menschen zu Zeiten Jesu wurde.